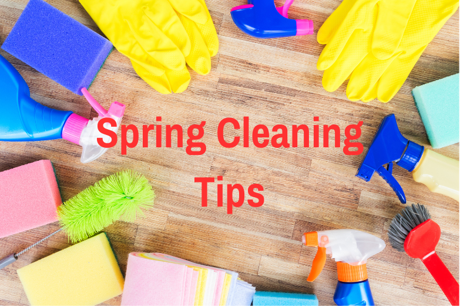 Tips To Get Your Home Ready For Spring
Spring cleaning is a great way to freshen up your home after a long winter and get ready for the warmer months ahead. Here are some tips to help you tackle your spring cleaning:
Make a plan: Before you begin, create a checklist of all the areas in your home that need to be cleaned. This will help you stay organized and ensure you don't forget anything.
Declutter: Get rid of anything you no longer need or use. This can be a great opportunity to donate or sell items you no longer want.
Start from the top: Begin cleaning from the top of your home and work your way down. This will prevent dust and debris from settling on areas you've already cleaned.
Dust everything: Dust all surfaces, including shelves, window sills, and light fixtures. Use a microfiber cloth or a duster to ensure you capture all the dust.
Deep clean carpets and rugs: Vacuum carpets and rugs thoroughly, and consider renting a steam cleaner for a deep clean.
Clean windows and mirrors: Use a glass cleaner and a lint-free cloth to clean windows and mirrors. Make sure to clean both sides of the windows.
Scrub bathrooms and kitchens: These are the areas that tend to accumulate the most dirt and grime. Scrub the sink, toilet, shower, and bathtub in the bathroom, and clean the stove, oven, and refrigerator in the kitchen.
Launder linens: Wash all bedding, towels, and curtains to get rid of any dust or allergens.
Organize your belongings: Reorganize your closets, drawers, and cabinets to make the most of your space.
Finish with a fresh scent: Use an air freshener or burn a scented candle to give your home a fresh, clean scent.
Remember to take breaks as needed, and don't try to tackle everything at once. Spring cleaning can be a big job, but it's also a great way to start the season off on the right foot.
Download our helpful Spring Cleaning Checklist to keep track of your progress!