Times They Are a Changing...
As we celebrated the holidays the Denver Real Estate Market showed the typical season slowdown we've come to expect. However this December felt a lot different than the previous years.
The chill in the air was not only from the December snow but from a shift in Denver's cooling real estate market. The number of closing were down 40% from this time last year and there were 26% lower homes going pending.
High prices coupled with high interest rates have caused affordability to be top of mind for most Buyers. There isn't the rush to buy like there was in the beginning of 2022. Buyers are taking their time and looking at more properties before pulling the trigger to buy.
The market shift has many Sellers waiting to list their homes. This was reflected in a 40% drop of new listings coming to market compared to this time last year. Another factor is many Sellers are locked into much lower interest rates than what are currently available today. It has many in a wait and see mode as they wait for rates to improve.
On a positive note, although interest rates are higher, December saw four times more standing inventory for buyers to explore. Plus most homes closed 4.4% below the list price!
With home prices coming down and Buyers not having to overpay for homes as they did for most of 2022, Buyer confidence is improving. Creative financing like 2/1 Buy Downs and ARM's are making a comeback. If you're in the market to purchase or sell a home in 2023, please contact us. We would love the opportunity to assist you!
December 2022 Real Estate Report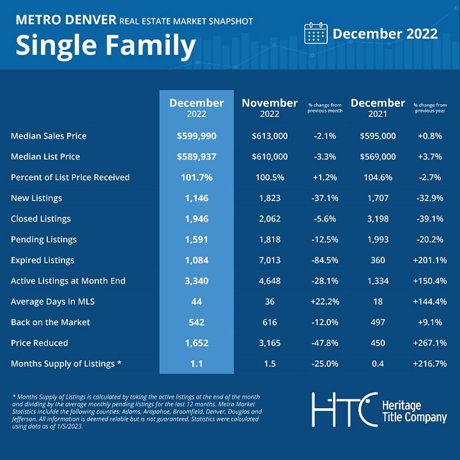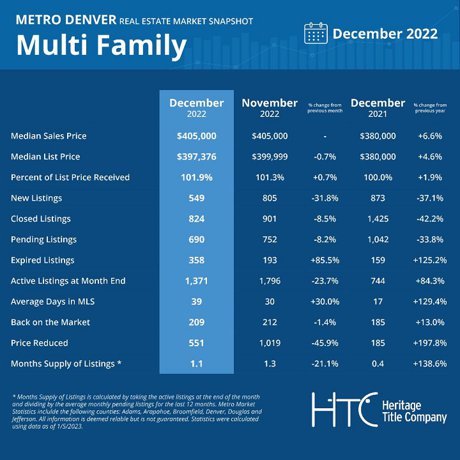 December 2022 Market Watch Full Report
Curious about what's happening in your neighborhood?
You can create a custom market report to see all active, under contract, and sold homes within your neighborhood!
Considering selling or refinancing your home? Get an INSTANT property valuation now!
We're here to serve all your real estate needs. Contact us today