Aurora Celebrates the Grand Opening of Their Newest Recreation Center
The city of Aurora, CO recently celebrated the addition of their newest facility, the Southeast Recreation Center and Fieldhouse. This new facility located just west of the Arapahoe County Fairgrounds at 25400 E. Alexander Dr. Aurora, CO 80016 is a welcome addition to one of the fastest growing areas in Southeast Aurora.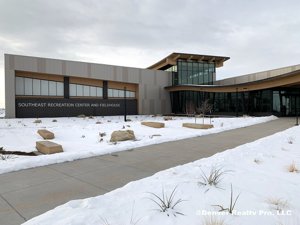 The state of the art facilty includes a gymnasium with basketball courts and pickleball. There is an indoor soccer field plus an indoor pool with Splash Park, lap pool, lazy river and water slide and hot tub. There is also plenty of cardio and fitness equipment as well as free weights to enjoy.
Another great feature is the indoor walking running incline track which spans the entire facility. There is also a multi-use studio available to use.
The facility offers both youth and adult soccer leagues as well as swimming lessons and basic and specialty fitness classes.
There are plenty of youth programs including after school clubs kids can enjoy designed to be both fun and educational. Themes change on a quarterly basis so make sure to check the website for full details.
Membership varies from day passes to full membership. You can pay annually or you can utilize their EZ payment plan. Monthly and 10 visit passes are also available.
The best news is when you purchase one pass you get access to all six of the recreational centers across Aurora.
If you have been ready to get going on your New Year's Resolution make sure to stop by and visit this amazing brand new facility!