Castle Pines, CO Real Estate For Sale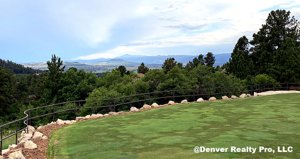 Castle Pines is a small city located in Douglas County, Colorado, in the United States. The city is situated approximately 20 miles south of Denver and is bordered by the cities of Castle Rock and Lone Tree.
As of the 2020 census, Castle Pines had a population of approximately 11,650 people. The city covers an area of 9.6 square miles and is known for its upscale residential neighborhoods, scenic beauty, and abundant recreational opportunities.
Castle Pines was incorporated in 2008, making it one of the youngest cities in Colorado. The city was formed by the consolidation of several unincorporated communities in Douglas County, including Castle Pines North and Castle Pines Village.
One of the main attractions in Castle Pines is the Ridge at Castle Pines Golf Course offering stunning mountain golf within the metro area.
Castle Pines is also home to several parks and open spaces, including Elk Ridge Park, Daniels Park and Coyote Park which offers hiking and biking trails, picnic areas, and stunning views of the Rocky Mountains.
Castle Pines is known for its high quality of life, excellent schools, and low crime rate. The city has a strong sense of community and offers a variety of family-friendly events and activities throughout the year, including concerts, festivals, and holiday celebrations.
Overall, Castle Pines is a peaceful and picturesque city that offers a high quality of life for its residents. With its beautiful natural surroundings, world-class golf course, and abundance of recreational opportunities, it is a popular destination for those looking for a relaxed and luxurious lifestyle in the Denver metro area.
Make sure to SIGN UP for your free account so you can save home searches, and get daily email alerts of new listings, price changes, sold data, and market reports. Contact us today. Let's make your next real estate experience you BEST experience yet!