First Time Home Buyer Series
Purchasing a home for the first time may seem overwhelming. Many buyers don't know where to start. Denver Realty Pro, LLC understands your concerns and has put together an informative series for First Time Home Buyers where we answer some of the most common questions first time buyers have.
Before we get started, we would like to share some things to consider.
Determine your budget: Calculate your monthly income and expenses to determine the maximum amount you can afford to spend on a home.

Get pre-approved for a mortgage: This will give you an idea of how much a lender is willing to loan you, and how much your monthly payments might be.

Consider your location: Think about what type of neighborhood you want to live in, how close it is to your work and other important amenities, and the quality of the local schools.

Research different types of homes: Consider factors such as the size, style, and age of the property, and decide which type of home is best for you.

Hire a real estate agent: A professional real estate agent can help you find the right home and negotiate the best price on your behalf.

Get a home inspection: A professional inspection will give you a comprehensive understanding of the condition of the home, and help you identify any potential problems.

Closing costs: Be prepared for closing costs, which can include fees for things like title insurance, attorney fees, and property taxes.

Maintenance costs: Don't forget about ongoing maintenance costs, such as landscaping, repairs, and renovations, which can add up over time.

Take your time: Buying a home is a big decision, so take your time to find the right one, and don't be afraid to walk away from a property if it doesn't feel right.
Dealing With Home Buying Anxiety
Purchasing a home can be an overwhelming experience even for people that have done it many times. Imagine how overwhelming it can be to a first time home buyer? You may have questions of where do I start? How does the process work? How much money do I need to purchase a home?
Well you're not alone those are very common questions First Time Buyers have. We have lots of experience assisting people purchase their first home. Here is a comprehensive list of some of the most common questions we received over the years.

Think Buying Your Own Home Is Unrealistic... Think Again


If you're currently renting and thinking of buying a home you may be experiencing some anxiety around your decision. Making changes are hard especially if you haven't done this before. It's always a great idea to remind yourself the benefits of owning vs renting. The diagram above discusses some benefits of owning vs. renting.

How Much House Can You Afford
Now that you see some of the benefits home ownership offers vs. renting it is time to look at how much income you need to afford the monthly mortgage payment. The chart above looks at not only your income, but discusses something called Debt To Income Ratio or (DTI).
The DTI varies by the loan type and can vary between 28-43%. To determine you DTI ratio, you simply take your total debt and divide it by your income. Here is an example if your monthly debt is $2,000 and you make $6,000 per month, your DTI is $2,000/ $6,000 yields a 33% DTI.
Denver Realty Pro, LLC partners with some of the finest lenders in Denver. We can introduce you to an outstanding Lender that can assist you with any additional questions and help you with your Pre Approval.
There are many other factors to consider that affect how much house you can afford. You need to not only consider your monthly income, but also the interest rate, your down payment and the loan amount. The chart above shows how each work together to determine your purchase power. If any one factor changes it will affect how much home you can afford.

Preparation Is The Key When Applying For A Home Loan
Do you know your credit score? Do you know how your credit score affects which type of mortgage you can apply for? Many First Time Home Buyers really don't know what score lenders are looking for. People with strong credit history and high credit scores have more options for their loan than someone with no credit history or a bad credit score.
There are many types of mortgages available for consumers. Not all have the same credit score requirements. Convention loans typically require a minimum credit score of 720, while FHA and VA loans look for scores around 620. That being said there are certain circumstances where certain loans may accept credit scores as low as 580. Typically these type of loans come with a higher interest rate or other restrictions.
Knowing your credit score is helpful prior to applying for a mortgage. If your score needs some help, there are many ways you can improve your score. See the diagram above for some of the best ways to improve your score.

Pre-Qualification vs. Pre-Approval Is There A Difference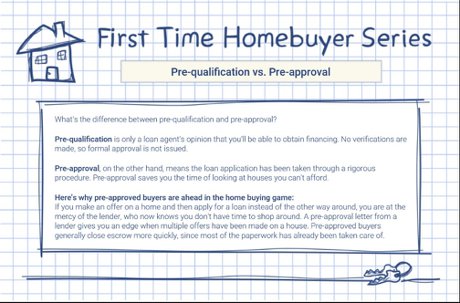 When you apply for a loan your lender may offer you with either a Pre-Qualification or a Pre-Approval. Is there a difference? Yes there is.
A Pre-Qualification is the lenders opinion that you can qualify for a loan based on the questions you answered. Credit was not pulled, no application was filled out and no verification was performed.
A Pre-Approval is given after the loan application was sent, a credit report was pulled determining your credit score, necessary paperwork including W2's, Pay Stubs, Bank Statements, Verification of Employment and Verification of Funds are submitted. The loan is processed and in many instances it goes through underwriting to render the Pre-Approval.
We highly recommend that your secure your Pre-Approval before you start your home search. First, it allows you to determine the price you can afford and secondly it allows you to react quickly once you find a home you want to purchase. Proven fact Sellers look more favorably on an offer with a Pre-Approval vs. a Pre-Qualification. It can be the difference of having your offer accepted or rejected.

Private Mortgage Insurance (PMI)
What is Private Mortgage Insurance or (PMI) and do I need it? Private Mortgage Insurance (PMI) simply protects the Lender if the Buyer defaults on the loan. PMI can avoided, but unless you plan on putting a 20% down payment the answer is yes, you will have PMI.
PMI can be removed once the home appreciates to an 80% Loan To Value (LTV) or less. Please note that PMI varies by loan type and program. Your Lender will go over these in detail during the mortgage process.

No Down Payment... No Problem
While many First Time Home Buyers are comfortable making rent payments that are as much or more than a mortgage, they lack the down payment needed to purchase a home.
Don't let your lack of down payment dash your dream of home ownership. If you have good credit, good work history (At Least 2 Years Work History In Same Field) and income, you may qualify for a down payment assistance program. If this is your situation, then don't worry we have Lender partners that can help you get enrolled into these programs to get you onto the road to home ownership!

Take The Fear Out Of Paperwork
Congratulations! You have taken the first step and have contacted a lender to apply for a loan. You may be surprised on how much documentation Lenders require to apply for and process a loan. .
See the above chart for some of the most common items Lenders require when you apply for your loan. Being organized and providing the Lender with all required documents will help the Lender process your loan more quickly to render their Pre-Approval.
In some cases Lenders may require additional documentation not on the list. Make sure to provide the documentation needed quickly to keep the loan moving forward without delays.
What Not To Do Before Buying A House
Congratulations you received your loan Pre-Approval and are one GIANT step closer to purchasing your first home. It is VERY important to understand that while you are in the process of purchasing a home there are many things that can derail your Pre-Approval.
Don't open up any new lines of credit like credit cards. Don't purchase a car. These can affect your DTI which can lead to your losing your Pre-Approval. Don't change jobs especially if it means a career change. Lenders require 2 years work history in the same job field. If you're a plumber and decide to become an accountant, you will need 2 years work history as an accountant to qualify.
The above chart discusses a few other things you should not do to assure you will not affect your loan.
Things To Consider When Thinking Of Buying A Home
Now that we have your Pre-Approval in place we are ready to start looking at homes. Here are a few things to consider when preparing to see homes. Compiling a list of must haves, nice to haves and items you are willing to compromise on will really help when selecting homes to tour.
The chart discusses a few other things to ask while searching for your home. Once we have a detailed list of things you are looking for in your home, Denver Realty Pro will set you up on an interactive home search. Once we determine the homes you want to see, will schedule the showings and start viewing the properties!
Things To Take With You When House Hunting
We try to limit the amount of showings to around 5 per day. We have found that seeing too many houses in one day can actually be confusing as they start to blend together and you find it hard to keep them straight.
We recommend that you bring a notebook along with you to take notes for each property. Mark what you like and dislike about each property. Ranking homes from 1-10 is also helpful when reviewing what we saw and determining which homes make the final cut.
Take plenty of pictures and gather any available flyers to put into a folder for each property.
Most importantly partner with a knowledgeable Realtor that understands the needs of First Time Home Buyers and can make the process go very smoothly.
Last Minute Details
There are many details to keep track of once we find a property that you want to make an offer on. This is where a STRONG Realtor shines. We have tons of experience assisting First Time Home Buyers. We have systems in place to assure that every detail is addressed and the process goes smoothly for you.
We hope you found this information helpful. Allow us to partner with you to make your FIRST real estate experience the BEST experience it can be.
Contact us today! We look forward to hearing from you!