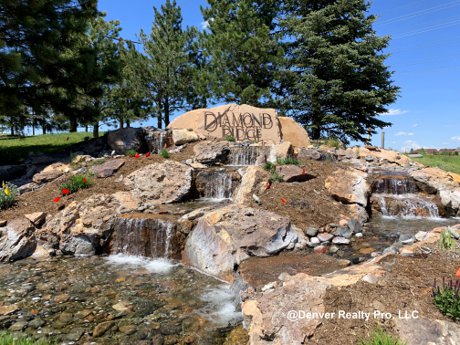 Diamond Ridge Estates Homes For Sale
The Diamond Ridge Estates neighborhood is located in Castle Rock, Colorado, which is a picturesque town situated in Douglas County, part of the Denver Metropolitan Area. Diamond Ridge is a residential community known for its stunning views of the Rocky Mountains and its friendly atmosphere.
Housing in Diamond Ridge Estates primarily consists of large luxury single-family homes, ranging in size from 4,000 to over 8,000 square feet, with a mix of architectural styles, including modern, traditional, and ranch-style homes. Many homes in the neighborhood are newer, having been built in the late 1990s and early 2000s, with some newer construction as well.
One of the key features of Diamond Ridge Estates is its natural beauty. The neighborhood is nestled against the foothills of the Rocky Mountains, which provides residents with breathtaking views and access to outdoor recreational activities. There are several parks and open spaces nearby, including the popular Rock Park, which offers hiking and biking trails, picnic areas, and playgrounds.
Diamond Ridge Estates is known for its family-friendly atmosphere, with many young families and professionals choosing to live in the area. The neighborhood is served by the highly-rated Douglas County School District, which includes excellent schools such as Sage Canyon Elementary School and Mesa Middle School. There are also private schools and preschools in the vicinity, providing a variety of educational options for families.
The location of Diamond Ridge Estates is also a draw for residents. The neighborhood is conveniently located near major roadways, including Interstate 25, which provides easy access to Denver and Colorado Springs. Residents enjoy a short commute to nearby shopping centers, restaurants, and entertainment options, including the Promenade at Castle Rock and the Outlets at Castle Rock, which are popular shopping destinations.
Overall, Diamond Ridge is a desirable neighborhood in Castle Rock, Colorado, known for its beautiful views, family-friendly atmosphere, and convenient location. It offers a peaceful and welcoming community for those looking to enjoy the Colorado lifestyle with easy access to both outdoor recreation and urban amenities.
The Diamond Ridge Estates neighborhood in Castle Rock, CO listings shown below reflect the newest homes to hit the market.
These listings are updated every 15 minutes from the Denver MLS database. See something you would like to see in person? Please contact us today so we can set up the showing for you.