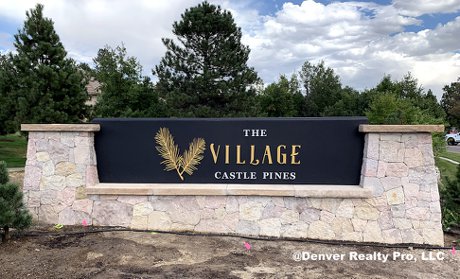 Homestead at Castle Pines Village Homes For Sale
Castle Pines Village is a gated luxury residential community located in Castle Rock, Colorado. It is a prestigious and exclusive neighborhood known for its upscale homes, picturesque natural surroundings, and top-notch amenities. Here's an overview of what you can expect at Gated Castle Pines Village:
Castle Pines Village is situated in the foothills of the Rocky Mountains, approximately 20 miles south of Denver, Colorado. The community is nestled in a secluded and serene setting, surrounded by towering pine trees, lush greenery, and stunning views of the nearby mountains.
Castle Pines Village is a gated community with 24-hour security, providing residents with an added layer of privacy and safety. The entrance to the community is guarded, and access is restricted to residents, their guests, and authorized personnel, ensuring a secure living environment.
The community features a variety of luxury homes, including custom-built single-family homes, townhomes, and estates. The homes in Castle Pines Village are known for their exquisite architecture, high-quality craftsmanship, and premium finishes. Many of the properties are situated on large lots, offering ample space and privacy. The real estate in Castle Pines Village is highly sought-after and tends to be on the higher end of the price range.
Castle Pines Village offers an array of amenities for its residents. The community features several parks, playgrounds, and trails, providing opportunities for outdoor recreation and leisure. There is also a community clubhouse, fitness center, and swimming pool, as well as tennis courts and golf courses nearby. The community is known for its strong sense of community and active homeowner's association that organizes social events and activities for residents.
Castle Pines Village is home to two incredible private golf courses. Members enjoy some of the best golf Colorado has to offer right in their own backyard.
One of the main attractions of Castle Pines Village is its stunning natural surroundings. The community is surrounded by scenic landscapes, including pristine forests, rugged canyons, and majestic rock formations. Residents can enjoy hiking, biking, and other outdoor activities in the nearby Castlewood Canyon State Park and other nearby natural areas.
Despite its secluded location, Gated Castle Pines Village offers convenient access to nearby amenities. The community is located near shopping centers, restaurants, and entertainment options in Castle Rock, and is within driving distance to the Denver metropolitan area. Additionally, the community is served by top-rated schools, making it an attractive choice for families.
Castle Pines Village is a prestigious and exclusive gated community that offers luxurious living in a serene and natural setting. Its upscale homes, top-notch amenities, and beautiful surroundings make it a desirable place to live for those seeking an elevated Colorado lifestyle.
The Homestead at Castle Pines Village neighborhood in Castle Rock, CO listings shown below reflect the newest homes to hit the market.
These listings are updated every 15 minutes from the Denver MLS database.
If you see something you would like to see in person, please contact us today so we can arrange gate access and schedule a time to take you for a tour of this incredible neighborhood!